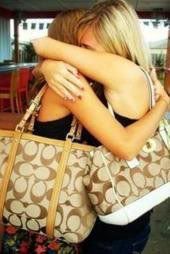 I don't like good bye's. Especially to say it to people that you love so much, like my sister and my niece, family. This was my first time meeting my niece and it was so sweet to have a little girl in the house. And this was also my sister's first time meeting my 3rd son. We try to make it a point to visit every year but it's very expensive. So we don't really know when we will see each other again.
After taking my sweet sister and my beautiful niece to the airport today, I just got thinking. I was thinking about what it's been like these past 10 years after moving to the U.S with my husband. I have truly lived the Genesis 2:24 passage about leaving father and mother. I moved far, far away, overseas to be more exact. :)
We've been through so many paper work processing with the INS for my self and then for my parents. And hopefully soon for my siblings. But there is a long waiting period. So for now, this is how it is as we wait and trust in the Lord that things will change.
It has been an investment money wise, but it has also been an emotional roller coaster, because we can't see each other every week, or every month, or even drive to where they are. We really don't spend the holidays together because it all depends on the ticket prices.
I thought about stories I've heard others share about visiting family and I've heard comments about living far from them because they don't get a long and they can't stand their family.
If they live in the same city, they are only but a few minutes away. If they live in a different city they are a few hours way. If they live in a different state, they are still in the same country. I thought, they have it good!
My heart was sad today, and I cried, because my sister and my niece left. I cried because they can't live close to me. I cried because I wish there was something I could do for them to be here. But it is not in my control.
I guess the reason I wanted to share this is to say this: treasure your families that live close to you. Visit them, be with them, love them while you can. Treasure every moment and make it a memory. Don't waste your time in silly arguments.
Romans 12:18 says:
If possible, so far as it depends on you, be at peace with all men.
So next time you think that you want to live far from your family, think about how blessed you are, because you don't know what you have until it's gone.